In previous blogs, we've reviewed the capabilities required to run a dedicated account-based programme using the 'Magnificent Seven' ABM capabilities. In this article, I am going to build on that idea by describing the first two stages of the ABM playbook we use to establish, run and optimise ABM programmes.
The ABM playbooks
Our ABM playbooks are based on years of experience in successful campaign delivery distilled down into a series of easy-to-follow steps. The first, ABM Playbook Orchestration, is used to establish, orchestrate and optimise the ABM programme. The second, ABM Execution, is used to focus on the target accounts during the execution of the programme. In this blog, we'll be covering the first two stages of the first playbook – account selection and the buyer's journey.
These two stages establish the foundations for the ABM programme by identifying the audience and their needs throughout the purchasing process.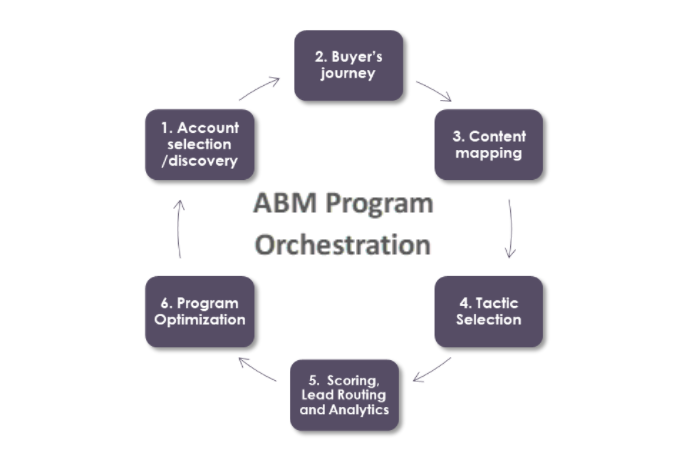 Account selection/discovery
This is by far the biggest stage in the ABM programme orchestration playbook, and for good reason: well-chosen accounts don't guarantee success, but poor account selection usually results in failure.
The process, like all the steps in the playbook, is tailored to individual client needs and depends on whether the client has a target account list for us to validate, or if one needs to be developed.
If a target account list needs to be built, we start by developing an ideal customer profile (ICP) and use that as the basis for developing an account list using multiple data sources, including technographics and intent. We will then add custom research, if required. After that we'll model the account list and create data segments based on modelled propensity – typically A1 to C3 (see diagram below).
If the client has a target account list already, that requires a different process with a couple more steps. We'll start by ingesting the ABM target account list and clean, match and de-duplicate the account records. From there, we the enrich data with technographics, intent and custom research, develop an ideal customer profile (ICP) and model the account list. Finally, we create a set of lookalike accounts and the data segments based on modelled propensity.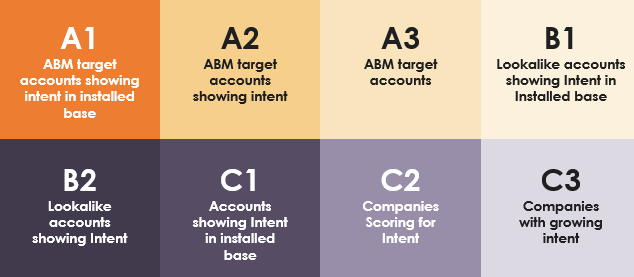 Segmentation Example. Note that the term 'installed base' refers to a technographic profile, it does not indicate an existing customer.
Naturally, the approach is different in one-to-one ABM programmes. Here, account discovery replaces account identification. This requires a team effort to pull together a wide variety of information. An ideal place to start is with a customer that's a close match to your ICP. With a team that consist of sales, marketing and any other customer-facing roles, it should be possible to pull together the following information:
Account objectives – goals, objectives and measures of success

Target audience – target buying centres, buying team profiles and personas

Account profile – account structure, including subsidiaries, org structure, IT budget, installed base and competitors

Account history – installed product/use case(s), account contacts, marketing touchpoints and account-specific content

Account priorities – internal and external drivers, company strategy and direction, business unit/department strategy and direction, executive priorities, key initiatives and measures of success

Lookalike accounts – purchasing drivers, inflection points for change, initiatives and measures of success, successful content and testimonials/case studies
The buyer's journey
Having identified and profiled our audience we can move on to establishing their needs through the purchasing process. We use the buyer's journey for this, though this is by no means it's only purpose in the programme. We also use it to help interpret buying behaviour and to inform content strategy and personalisation. It also has a lot of value as a framework for account walkthroughs and timelines, which helps provide a common vocabulary for sales and marketing and drives alignment. Lastly, it also illuminates potential opportunities to drive engagement and reduce friction points in the purchasing process.
We've reviewed many buyer's journeys, from analyst firms like Forrester and Gartner to those our clients have developed in-house. The design we've adopted reflects the recent move towards focusing on the tasks the buying team must accomplish, while building on the stages familiar to many and providing a truly powerful framework that enables you to capture and understand the B2B buying behaviour of your prospects and customers.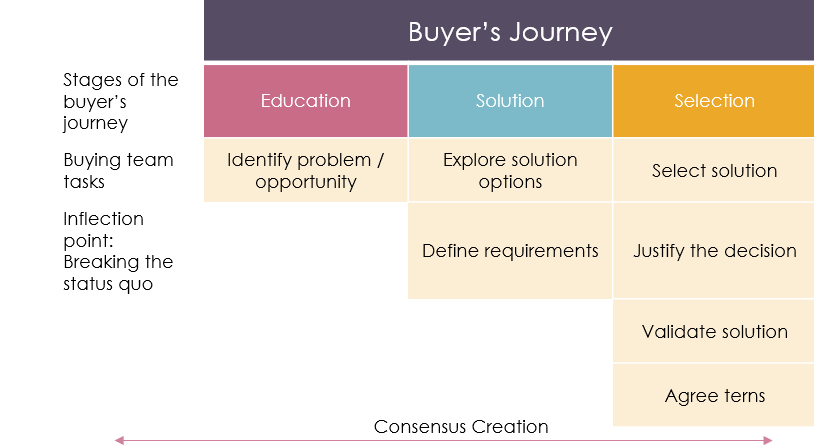 The buyer's journey – note the stages described here can be recorded in the MAP, content management applications, PathFactory type apps and/or the CDP.
The buyer's journey is defined and populated in cross functional workshops. Adopting a buyer-centric approach, and focusing on addressing the buying team's tasks, creates an environment where it is much easier for sales and marketing to understand each other and synchronise their work.
The 'decisive moment' of the buyer's journey is the inflection point where an individual or individuals, who may or may not yet be considered part of a buying team, decide to break the status quo and make a change. This may be a decision to retool a process, replace a technology or start a radical new initiative. But whatever it is, understanding what drives it and picking up those signals is vital. If the weight of the status quo is just too much and the account is going to stay with its existing approach, that is always disappointing, but for sales, the real impact comes only if this realisation comes late in the sales cycle. By diligently searching for the signals that indicate change is being embraced or rejected, ABM can help make the selling process far more effective.
The later stages
We invest a significant amount of effort on the first two stages. With the audience and their journey modelled, defining the right content and tactics becomes much more straightforward. Scoring and analytics are also easy to work though as they are based on the same data sets we established for the segmentation.
The ABM program is defined as a wheel because the final stage, optimisation, makes use of the data gathered to continually improve the programme. To help our clients on their ABM journey we've developed a maturity model which we can baseline and track to ensure we can extend capabilities to match growth objectives.
Stages of ABM Playbook 1. Note that Argus is our in-house account-based intelligence and data validation platform

| Playbook Stages | Description |
| --- | --- |
| Account Selection | Modelled account list validated, prioritized, enriched, with lookalikes and segmented |
| Buyer's Journey | Sales and Marketing workshops focused on defining aligning and meeting buying and selling objectives |
| Content Mapping | Content audit and content map by buyer's journey stage enriched by research and third party data into consumption patterns and consumption preferences |
| Tactic Selection | Highly tailored tactic selection based on the account intelligence gathered during the previous three phases |
| Scoring, Lead Routing and Analytics | Automated MQA Score based on all account touchpoints, data synchronized between Argus, CRM and MAP and routed as appropriate, account intelligence recorded in company card |
| Program Optimization | ABM maturity model assessment and plan and Ongoing campaign optimization (algorithmic and human) with associated reporting |