20 reasons to work for The Marketing Practice.
Let's face it. If you're a stellar B2B marketer you're in high demand. Even more so if you're a good egg to boot. Agencies will be falling over themselves to lure you in with their table football (check), funky offices (uh-huh) and office dog (yep, we've got one of those too).
But hang on a sec. What if you want more? Forget the free food on tap (guilty), you want intellectual stimulation. Screw exotic away-days (hello!), you want to work for the leading independent integrated B2B agency, on some of the world's best-known technology brands.
Well colour us flabbergasted, we've only got the whole blooming package here at The Marketing Practice! Don't believe us? Believe this – a pleasingly round 20 reasons to join us in 2020. There's something for every good-egg B2B marketer.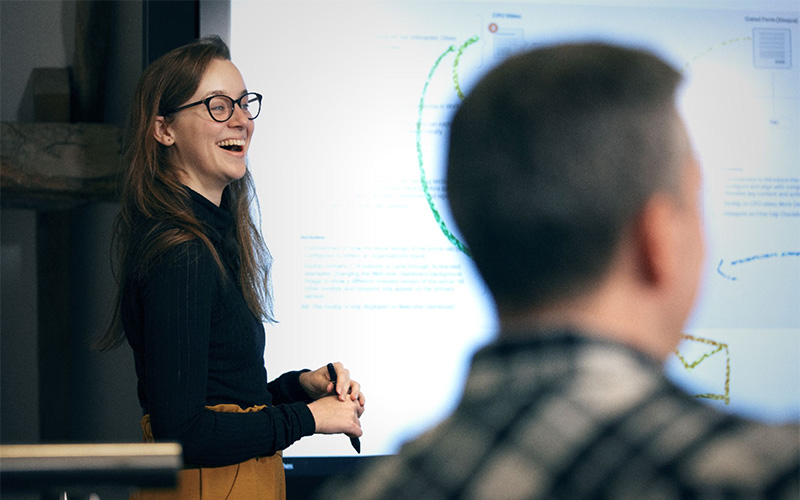 Not one, not two, but three vibrant locations to choose from. Seattle in the US, East Hendred in Oxfordshire in the UK and Munich in Germany.

You want awards? We've got awards. This year alone we've placed in 16 different categories in global awards, so clear some space on your mantelpiece.

We love to celebrate success. Don't believe us? We've got a Head of Celebrations. [mic drop]

Our regular sales & marketing shindig, the S&M Forum, is the hottest ticket in the B2B calendar for networking and learning about the latest topics, you won't want to miss it.

…and speaking of learning, we've got our very own B2B training programme – the TMP Academy – where staff can log on and learn about everything B2B marketing, from soup to nuts.

You might feature in your very own personalised TMP advent calendar, just like staff did this Christmas. Ok, that's a weird one but we've got 20 spaces to fill. Give us a break, guys.

One for all you Mr Whippy fans out there: the ice cream van comes to East Hendred on the first day of summer. And it's all free, free I tell you!

What's that, you want to hear more about the free stuff? All our kitchens are stocked daily with everything you need to make breakfast, lunch and endless snacking in between.

If you can squeeze in some work between all the meals, you'll be using your marketing nous for the likes of Microsoft, ServiceNow, O2 Telefónica, Xerox, Oracle, Sage & Salesforce.

Phew, it's exhausting doing all that eating and working for superstar clients isn't it? Schedule in some chillout time with the (unofficial) Seattle office dog, Ralph the Pug.

When we say we do B2B marketing, we mean it – all of it. Take your pick from planning, strategy, data analytics, data management, social media, UX, paid digital, copywriting, content writing, creative direction, designing, artworking, client direction, account direction, account management, programme management, inside sales, demand generation…are you still with us?…and we're expanding all the time.

Perks shmerks we hear you say, show us the money! Will we ever. We've got competitive salaries, healthcare, dental cover, a newly-revamped pension scheme and the full benefit works (HR have told us to say you can contact them if you want actual, you know, details).

You're a mover and a shaker, right? You've come to the right place. Three of our board members started here as graduates, so the sky's the limit for ambitious marketers.

You're a B2B fanatic? We're B2B fanatics too! How about that… If you want to kick back and chat STP, ROI and ABM over a cup of coffee, we're there.

But it's not all me, me, me here at TMP. Our current charitable undertaking is called Keys to the Classroom and funds eight Cambodian girls' educations.

We're growing. Boy are we growing – in Seattle alone, we more than doubled headcount in 2019. And with growth comes opportunity, as someone famous probably once said.

We like to get out of town from time to time. Annually, in fact, on our yearly away days. Based on previous destinations, you could find yourself anywhere from Reykjavik to a ranch in Washington.

Variety is the spice of life: working here you could be rolling out a global account-based marketing programme one day and brainstorming a new video series the next.

But all work and no play…you know the rest: that's why we've got thriving social committees across our offices, organising everything from 'creativi-tea' sessions to Christmas markets.

This one's for you to fill in the blanks. Looking for a new challenge? Underwhelmed by your current company? Huge Mr Whippy fan? Only you know why 2020's the year to join us – but a good start would be to check out our jobs.